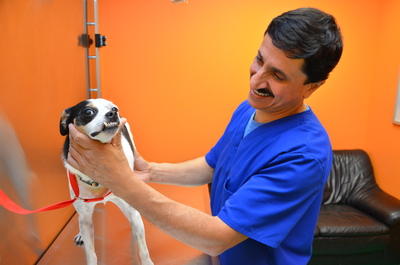 A veterinary clinic is really important for an individual that has a pet at their house. A veterinary hospital does a lot when it comes to get your pet treated when they are ill. Choosing a good veterinary hospital in Chantilly VA is also as important task as choosing a right pet.
In fact, it is always a good idea to choose an animal clinic at the moment you plan to adopt a new pet. Having your veterinarian in place is important because it should be the first stop you make after getting a new pet in your life. The initial wellness visit will help you create a wellness plan with your veterinarian to map out the growth of your new pet. Regardless of breed, the first year is crucial to the growth of any pet because this is the time where your pet will do most of its growing.
By choosing your veterinarian prior to obtaining your pet can also help you gain a sense of familiarity with the clinic to have a reliable place to take your pet in case of a sudden emergency. While keeping the above mentioned in mind, below are the top four factors to keep in mind when making your choice for a veterinary clinic in your area:
Check the Time of Availability:
When picking a clinic, familiarize yourself with their hours of operation. Make sure to check their regular office hours and see if it is compatible with your work schedule. This way you can take your pet to the nearest veterinary hospital without compromising with your busy schedule. Some clinics may not be available on weekends and others may have days with restricted hours. Familiarizing yourself can help in case of any emergency situation and knowing who to get a hold of and when.
Level of Professionalism:
The level of professionalism the staff exhibits will reflect on how they will treat your pet(s). You should notice how your pet is treated in the clinic and if you are not satisfied with their attitude, never hesitate to speak up or move on and find a new one. You want to feel comfortable and ensure your pet does too. A veterinary clinic should not be a place of high stress for either you or your pet. The level of professionalism will reflect in how well a business respects their clients.
Emergency Services
Pets are not like human and cannot always express their aches and pains. It is up to you to monitor your pet and understand when your pet is acting out of character. Sometimes that is the easiest way to tell something may be wrong is when you notice a change in your pets behavior. Therefore, you need to make sure that the vet clinic has adequate arrangements for emergency pet care or have vets who are able to make emergency house calls. This is something that you should check on during your very first visit to your new veterinary clinic since not all clinics have emergency service
Fees and Payments:
Do your research and see which hospital can align with your budget. Some clinics offer wellness plans where you can schedule an entire year of vaccinations and appointments for your pet and make monthly payments instead of paying for everything up front. Some veterinary clinics may accept pet insurance and others may not. Be sure to ask your perspective clinics what methods of payments they accept, any wellness/payment plans, or insurances for pets.
Additional factors could be additional services offered through the clinic, location, or word of mouth. While there are a lot of other factors you may want to consider when looking for a veterinary clinic in your area, these top four factors will help give you direction to make your decision.