Preparing your pet for the colder weather
Posted on September the 12th, 2018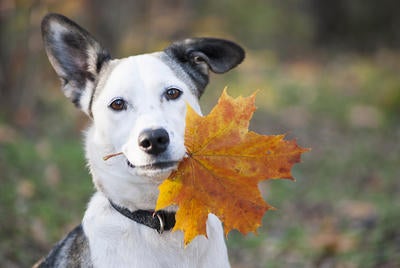 With Fall just around the corner, everyone will be anticipating changes in the weather and decreasing daylight hours. But those aren't the only changes in store for our four-legged family members! According to the ASPCA, rodenticide use increases during the fall, as does use of other "cold weather poisons." That's not the only danger hidden among the Autumn leaves, however. From insect repellents to leaf blowers, from visibility concerns to antifreeze, there's quite a list for us to review. Read on to find out how to keep your pet safe and happy in the coming months.
Be wary of anything with a name that ends in "cide." This root word means "to kill" as in rodenticide, insecticide, pesticide, herbicide, and so on. Any and all substances of this nature must be kept away from your pets as they pose a direct danger to them. If you don't need to use one or can find alternatives, that is preferable. For example, let's say when fall sets in, you find insects trying to get into your warm house whichever way they can! Instead of spraying insecticide, invest in candles and sprays with pet-safe ingredients or get some pet-safe, fragrant plants like rosemary.
Speaking of home and neighborhood foliage, if you have deciduous trees in your yard or on your street, you'll likely have some raking to do. VetStreet warns that if you use a leaf blower you should never aim it at your pet, even if your goal is to playfully shoot leaves toward your pooch. Why is that? They state that some such pieces of equipment are able to "blow leaves (and anything else in the way, like rocks or sticks) at speeds up to 200 miles per hour." You can imagine the pain and injury that could follow from a pebble flying into your own shin at that speed, much less your dog's.
Another consideration for your own, and your pet's, safety in Autumn should be your gear for daily walks. If any of your walks take place early or late enough that you will be in the dark you can increase your visibility by getting light-up collars, collar or harness attachments, reflective vests, and more. Even if you generally walk in better-lit areas, it's advisable to utilize these garments to keep both you and your four-legged friend safe.
Finally, for those of us who live in areas that get more ice and snow, or that get this kind of weather earlier, we have to be careful about products like ice melt. The main concern for these products is ingestion, but nonetheless certain ice melts are more safe for paws than others. In addition to getting a pet-safe ice melt, you can get winter booties for your dog to protect their feet. This is a good idea regardless of your pet-safe products because you don't know what anyone else is using in your neighborhood. In addition to ice melts you need to take extreme caution when using antifreeze as even small amounts can cause death if your pet ingests it. Check your car for leaks periodically as well and store antifreeze in a space where your canine companion absolutely cannot access.
If you take all of the precautions outlined above, you and your dog will have a much safer and more enjoyable Autumn. Be sure to get your pup one more dog-safe ice cream treat in before all the leaves have fallen!