a guide for admirers and potential pet parents
Posted on August the 19th, 2018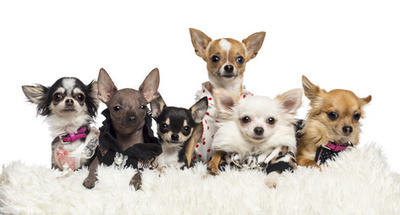 This pocket sized pooch doesn't get larger than six pounds, but has all the love in the world to offer their pet parent. In the American Kennel Club description they're characterized as "charming, graceful, sassy" and more. They're the smallest dog breed in the world and, due in part to their size, they're remarkably adaptable. It doesn't matter whether you live in a rural, suburban, or urban area, this is one small breed that is always right for you.
It's not surprising that Chihuahuas are so beloved today, with pet parents who carry them in fashionable totes and adorn them with collars that look like jewelry. The Chihuahua and their ancestors have always been held in high regard. Your favorite toy breed originated in Mexico, in a state called Chihuahua. The closest ancestor we know of is the Techichi, who was revered by Indigenous cultures in the area. If the Techichi was anything like the Chihuahua, they were "all that" and a bag of treats.
First, Chihuahuas are wonderful companions. They were bred for that role and are very serious about their duty to stay by your side through the ups and downs. They're relatively easy to travel with because they're so small. If you're a homebody and/or live alone, you might be glad to know that Chihuahuas make excellent watch dogs because of their keen hearing and inherent suspicion. Some Chihuahuas are even service dogs! Everything they do, they do for you.
However, there are some characteristics you need to be aware of before you run out and get a Chihuahua. While Chihuahuas are loving and loyal, they also tend to become attached to one main person. They can become jealous of others who interact with their human. Additionally, they're rather delicate because they're so tiny, so be careful of where you step. Finally, because of both of the above factors, they're not well-suited for homes with small children who may not know how to handle pets properly. Keep this in mind when evaluating whether you should bring a Chihuahua into your home or perhaps just volunteer at a breed-specific rescue.
Whether you want a dog that can keep up with your travels or a small companion to hang around the apartment with you, a Chihuahua could be your best choice. Be sure to continue your research on this spunky breed to ensure that a Chihuahua is the right breed for you!