The Black and Tan edition
Posted on August the 18th, 2019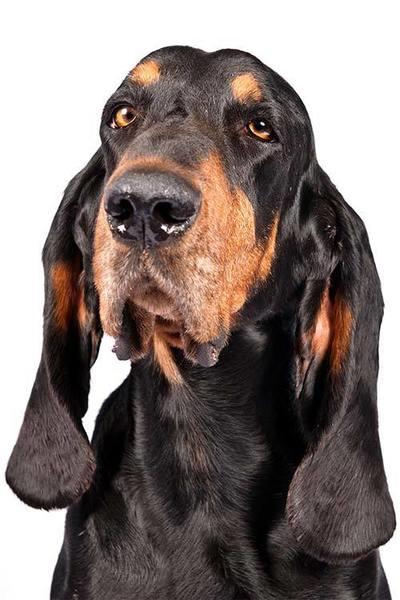 If you love spending time outdoors and having your canine companion stick to you like glue, you'll likely fall in love with the Black and Tan Coonhound—one of several Coonhound breeds. This American classic came from other European hound breeds and emerged in the United States' post-revolution era. Originally, Coonhounds were bred to hunt raccoons, and this is where they got their name! At that time in history, raccoons were an important source of both meat and fur, but the dogs from across the pond were no match for the scrappy scamps. Today Coonhounds remain hunters' companions, to be sure, but are also happy to be a loving member of the family.
In terms of personality and needs, Coonhounds are generally weather flexible and extremely friendly. That said, they do need a lot of exercise and have retained high prey drive. Because of the Coonhound's acute sense of smell, they're also prone to getting themselves lost following a scent should they have an improperly secured yard. For all of these reasons, Coonhounds do need to be leashed anytime you're out and about, and you must carefully consider the environment you can provide them as well as how much time you have to ensure they get adequate exercise. Luckily, NOVA Pets Health Center can help with our Doggie Day Camp. The dogs who come to play often return regularly because, not only do they get to run and play with toys, they get to have important social experiences with each other. For the Coonhound, it's a dream come true.
Healthwise you can generally expect this hound to be as healthy as any other dog, although they sometimes experience conditions such as hip dysplasia and thyroid disorders. Regular screenings in addition to proper diet and exercise will help to minimize health problems. The earlier a problem is detected the sooner it can be treated!
Once you're ready to establish care for your Coonhound with NOVA Pets, call us at (703) 378-9791 to arrange an exam. And, if you like saving money while staying on top of your fur baby's health needs, check out our Wellness Plans here!