A Guide for Admirers and Potential Pet Parents
Posted on October the 7th, 2018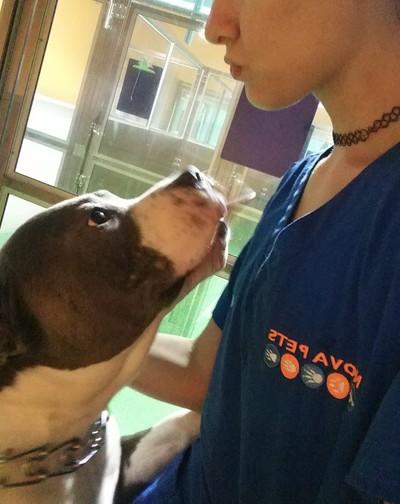 Most of us think of the American Pit Bull Terrier when we hear, "pit bull." That designation also refers to many other sub sections of the breed such as the American Staffordshire Terrier. According to Dog Time, the United Kennel Club and others recognize the American Pit Bull Terrier breed while the AKC does not. "The AKC decided to recognize the breed in the early 1930s — but under a new name. Intending to separate it from its pit-fighting past, the AKC named it the American Staffordshire Terrier." The fighting past mentioned here refers to the practice of baiting. In earlier times in Rome and Britain, forcing dogs to fight bulls and bears was considered a form of entertainment. In fact, that's part of the unfortunate origin of dog fighting. Nonetheless, the American Pit Bull and Staffordshire Terriers later came to serve as farm dogs, then dog nannies for our human children, and now as general family dogs because of their devotion and protectiveness. In America today, the breeds are very contentious with some cities and states, even countries, enacting laws to ban pet parents from having them. Thankfully, more and more of us are coming to understand that irresponsible pet ownership could more or less be the cause of the negativity surrounding the breed, not the dogs themselves. Pit bulls are eager to be human companions, so give them a chance by reading more below!
American Pit Bull and Staffordshire Terriers were created by mixing bulldogs and terriers, which accounts for many of their traits, especially high energy and low shedding. They're also extremely affectionate, loyal, and goofy! They're the class clowns of the canine world without a doubt. They're extremely energetic and perform fantastically in shows and competitions. In fact, these dogs are so observant and sharp that they might learn a few tricks you might not want them to if you perform a task right in front of them!
The American Kennel Club page for the American Staffordshire Terrier characterizes them as challenge seekers who are "courageous" and "trustworthy." Their grooming needs are low but they do require considerable time investment for play and exercise. They are well-suited for active families and should ideally be the single dog in the household. Because of their intelligence, incorporating puzzles into their play and training is immensely beneficial.
American Pit Bulls and Staffordshire Terriers have been mascots for the American military and have served heroically, too. They've also starred in our film and television, for instance Petey in The Little Rascals/Our Gang and Champion in Parks and Recreation. Pit bulls are highly versatile as you can see!
If you get a pit bull pal from a responsible breeder or a rescue with more details about the dog's background, you'll be less likely to encounter long term health problems. Still, you'll want to be aware that the AKC recommends several health screenings for pit bulls, including one for the thyroid. Potential health problems to be aware of and on the lookout for include hip dysplasia and potential allergies. It goes without saying that feeding your furry family member a healthy diet will contribute to their overall wellbeing so be sure to check out the ingredient list on any food you consider purchasing. And as always, give treats only in moderation.
Pit bulls as a whole have been terribly misunderstood because of some of the evils in our human history, not something inherent within them as dogs. We hope we've helped shed some light on their delightful personalities and commendable accomplishments. If you're interested adopting, fostering, or volunteering to help pit bulls in need, check out Virginia's own Bully Paws Pit Bull Patriots!