A Guide for potential pet parents and admirers
Posted on March the 10th, 2019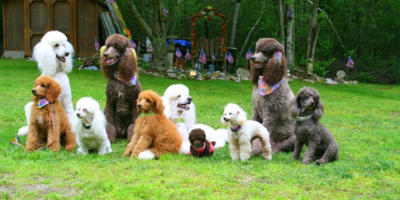 Few dogs are as well recognized and as iconic as the Poodle. They're found in art, film and cartoons, and of course, in canine competitions. Poodles are mostly associated with France because they were so well-received there. Poodles are indeed the national dog of France, but they actually originated in neighboring Germany as a water retriever. Poodle perceptions and opinions vary widely, even back in France, but the breed's intelligence, athleticism, and distinctive looks cannot be denied. Could one of these showstoppers be the dog for you? Read on to find out!
The Poodle's disposition is overall friendly. Poodles adore their pet parents, are good for families, and they also enjoy meeting new people (even if they're sometimes shy initially)! They have very little aggression and low prey drive but are born and bred retrievers who will gladly play fetch with you all day! As previously mentioned, Poodles are incredibly smart and do require as much mental stimulation as physical. Obedience classes are an especially appealing option for the Poodle because they learn so quickly and you'll nip any bad behaviors in the bud. In the past, Poodles have served not just as retrievers but also as performers, so today they're known to have high therapy dog potential. You might consider additional training for your Poodle that allows you two to volunteer together, as many others have.
Grooming is undoubtedly an important aspect of caring for a Poodle. You don't need to give them the historical half-shaven cut that kept their vital organs safe from cold water while retrieving back in the day, but they do require regular brushing and a good clipping every 6-8 weeks. Without proper grooming, the Poodle's coat will become matted and cause discomfort for your four-legged friend (and in severe cases lead to painful sores). Additionally, as with any other dog, you'll need to tend to your Poodle's teeth, making sure to brush them every day, and keeping their nails trimmed.
There are some health issues to which the Poodle is prone, and among them are: hip dysplasia, cataracts, epilepsy, and even Addison's disease. For this reason it's imperative that you choose a responsible breeder, should you get your Poodle from one. You might also consider a breed-specific rescue, such as the Mid-Atlantic Poodle Rescue!
Finally, regardless of your dog's breed or heritage you should always be vigilant about regular veterinary exams. Whether you just brought a snazzy new Poodle home or have an elegant elderly one, don't hesitate to call NOVA Pets at (703) 378-9791 to establish care! We make it our mission to keep your pets healthy and happy without your wallet hemorrhaging, and are pleased to offer Wellness Plans to that end. We hope to hear from you soon!