A guide for potential pet parents and admirers
Posted on August the 11th, 2019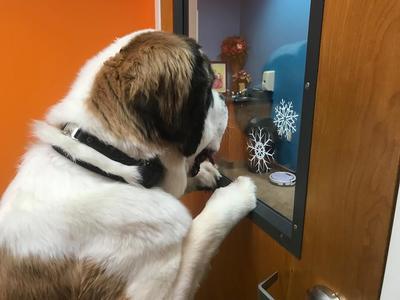 You've seen them in The Call of the Wild, Topper, and Beethoven, and today you'll read about them in this NOVA Pets breed blog: Saint Bernards! This giant teddy bear of a dog is in the top 50 most popular in America, although the breed's origins are in what we now know as Switzerland. It was actually monks who began to breed these hardworking and even heroic dogs. Saint Bernards often served as rescue dogs in the Alps, at least as early as the 1700s when we find the first written records about them. Today there is even a museum in Switzerland, Musée et Chiens du Saint Bernard, celebrating the breed's accomplishments! Read on to learn about the temperament, needs, and joys of loving the Saint Bernard.
While the size of this dog breed is certainly striking, it can also be misleading. For some, the Saint Bernard initially elicits fear, but they are among the most friendly and trustworthy companions we could ask for, although they still need proper training as any dog does. With obedience training and adequate socialization, you'll help the Saint Bernard become the patient, thoughtful, affectionate friend they were meant to be (and want to be). You should know ahead of time that while Saint Bernards are people pleasers they are also intelligent and willful, and so not necessarily the best choice for new pet parents. That said, this breed is extremely well suited for a home in which someone is always present, as well as for families with children, over whom the Saint Bernard will keep a loving and watchful eye.
It would be reasonable to assume that Saint Bernards need an abundance of exercise, but it's actually not true. This working-class dog loves the pampered-pet life and will be content with a couple of walks per day with some added play here and there! NOVA Pets Doggie Day Camp is nonetheless an excellent idea for pet parents of Saint Bernards who are more energetic than average, need opportunities for canine socialization, or whose pet parents are having to work long hours.
Saint Bernards live between eight and ten years on average and should generally be healthy unless a breeder or pet parent exhibits signs of irresponsible care. Saint Bernards may, like other dogs, suffer from conditions including: hip dysplasia, cardiomyopathy, diabetes, seizures, hot spots, and others. Regular vet checkups, a healthy diet, and regular exercise reduces the risk for many conditions, although some do have a genetic component. Be aware of the Saint Bernard's temperature sensitivity, too. They tolerate the cold fairly well, but not the heat, and require homes with air conditioning. If you adopt your Saint Bernard and don't have much information about their parents' health (as you should be able to obtain from a reputable breeder) you don't need to worry! Your local shelter should have ensured all animals have received at least basic examinations, and you can request those records.
When you find your Saint Bernard buddy we'll be thrilled to welcome them to our practice. We've even made it easier to stay on top of your pets' veterinary care with our Wellness Plans – check them out here! Once you're ready to establish with NOVA Pets, call us at (703) 378-9791 to arrange an initial visit.