BBQ advice to keep your pets safe, while still having fun
Posted on July the 3rd, 2018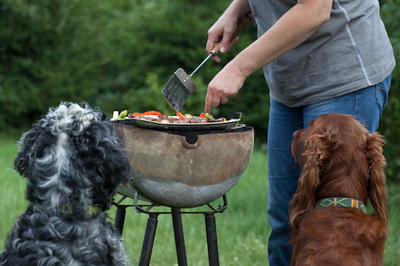 Summer is full of festivities: Memorial Day, Independence Day, graduation parties, family birthdays and more! We often enjoy a good BBQ to commemorate such occasions but, did you know, this could poses multiple risks for our pets? This is especially true with dogs who often join the family for these outdoor festivities. We all want to keep our furry family members safe so here are the some potential risks that cookouts can pose to pets and how you can prevent them harm.
The awe of "People Food"
It feels like you're spoiling your dog when you slip them a piece of hamburger under the table or reward them with a piece of hotdog after showing off what a good dog you have for rolling over on command. Unfortunately, many of the foods we feast on can cause serious stomach upset for our best friends or can even be poisonous to their bodies. For instance, you might already know not to give your dog chocolate but were you aware that onions and garlic damage canine (and feline!) red blood cells? Did you know that giving your dog the bones from your meal can lead to an internal puncture wound because of the bone splintering when the dog chews on it? And, if rolls or other breads containing yeast are not fully cooked, they can cause bloating so severe that it constitutes a medical emergency for our four-legged friends! This isn't even a comprehensive list of potentially harmful foods so be sure to stick to products specially formulated for your pet. Spoil your dog with a specially-decorated dog biscuit or a new toy as an alternative to table scraps.
Grilling Concerns
Burns are the most obvious concern for pet parents when grilling. If you're able to keep your pup in another area of the yard while grilling, we highly encourage it. Keep your canine as far away from the grill as you would a young child and be just as attentive about grill items such as skewers, lighter fluid, matches and coals. Dogs, much like young toddlers, are likely to put objects that are within reach into their mouths and cookouts provide numerous opportunities for this. The items you grill can come wrapped in plastic while some foods are cooked with tin foil. Regardless of packaging, sometimes you need a way to catch and remove grease so that your pet doesn't ingest it and wind up in a veterinary hospital with acute pancreatitis. Don't forget about the irritation that smoke inhalation can cause too! You don't necessarily need to keep Buddy inside, though. You might consider a lead for the yard that allows your pet to wander and socialize but in a more controlled manner, without access to the grill.
The Sun Burns Too
Don't forget that weather is an inherent concern during the summer, especially in humid areas. Keep a bowl of fresh water out for your dog so that they don't become dehydrated and be sure that they have access to shade. Know, too, that animals with white coats are far more vulnerable to skin damage from the sun. Fortunately, you can purchase doggie sunscreen for any canine to prevent discomfort, pain or injury from sun exposure! It's also advisable to purchase lightweight summer clothes for dogs prone to sun damage. For more tips on keeping your beloved bestie cool, check out our blog from June 13, 2018.
Socialize Safely
Where there are parties, there will likely be alcohol. If you know that there will be drinking at your BBQ, make sure you or another trusted individual is sober enough to keep an eye on the dog and respond in case something does go wrong. This is especially important if your dog is having friends over too. It's preferable to introduce pets to each other in a calm environment, but if an unfamiliar dog must come over, keep an eye on their interactions. The Humane Society offers useful tips like removing toys or chews from the meeting environment, as well as body language cues to help you do this more effectively.

Ultimately you want your celebration time to be fun for your fur babies too, and if you take the extra precautions above, your canine companion will be able to enjoy the party just as much as you will.