What you need to know in preparation of the upcoming holiday
Posted on October the 24th, 2018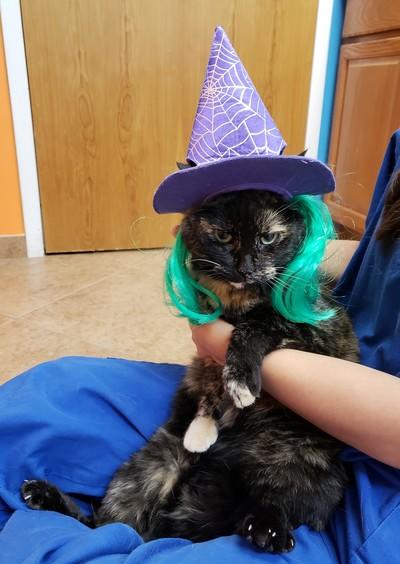 Jack-o-lanterns are being carved, costume stores are open, and treats decorated with candy corns and ghosts are abundant. Halloween can be fun for the whole family, including our pets, but only if we take the proper safety precautions. Along with fake spiders and webs, Halloween brings very real risks for our furry companions, from the candy to the trick-or-treaters. Consider that the Pet Poison Helpline experiences an increase in calls by a whopping 12% around Halloween. Keep yourself from having to make a frenzied call to them (or us) by following the tips below.
Turning your cozy home into a haunted house is part of the fun of Halloween, but be careful about where you put small decorations and costume pieces, such as vampire teeth, that could easily become choking hazards for your pets, especially if they're young and teething! Keep in mind that some party favors, such as glow sticks, can cause discomfort if chewed—glow sticks contain a liquid that tastes terrible to dogs even though it is in fact non-toxic. Don't forget that plants popular around this time, such as pumpkins, can be harmful to pets if they've molded and are ingested. And don't even get us started on the fire hazards that jack-o-lanterns present with lit candles! Put simply: keep your pets in mind when decorating your home, stay on the safe side if you have any concerns about your pet getting curious and keep all possible hazards to a minimal.
On that note, does candy count as a hazard? Definitely. Whether you're passing out candy to trick or treaters or bringing in your own haul, take care to keep that candy away from your pets. Chocolate is especially dangerous for our canine and feline friends. Could your pet get to the candy if it were on the counter? Can your cat open cupboards? What about if you have a bird? The freezer is always an option for keeping your candy fresh and your pets safe!
If you're staying in and passing out candy to trick or treaters, there are a few precautions you might want to take to keep your pets from getting spooked by all the activity. First and foremost, you might consider crating your pet if you have successfully made the crate their sanctuary. This way, your pet will be in a comfortable space and won't have the opportunity to bolt out of the door should they get frightened. Even if crating isn't an option, you might consider keeping your pet on leash as long as the porch light stays on. If you plan to have a raucous party at your place or your pet is hyper sensitive to Halloween activities, consider having your pet stay with a family member or boarding them. In any case, do not leave your pet unattended unless absolutely necessary, especially because crowds of people coming by the home might upset your pet.
If you're going out on Halloween, the safety tips differ a little bit. To begin with, do not dress your pet in a costume unless your pet is clearly comfortable with it, and never force them to wear a costume that could restrict breathing, their senses, or their ability to move normally. Make sure you've already microchipped your pet and that you keep any identification tags on them just in case they slip away. You might be tempted to remove your pet's collar if they're going to wear a costume, but it's more important to be safe than spooky! Along with identification, you'll want to ensure that all of your pet's vaccinations are up to date as some diseases are spread through the air or even the fecal matter of another dog; and we know how much our canine companions love to get a whiff. Never assume that other pet owners are taking the proper precautions with vaccinations and therefore your pet is out of harm's way. Take matters into your own hands to keep your pets safe and check with your vet if you're unsure when your pets are due for shots!
Finally, be responsible about your pet's socialization. If your pet is not as well socialized as you might like, or is frightened by all of the activity and strange costumes on Halloween, don't make October 31 the night for socialization practice! Don't be afraid to say "no" when people interested in your pet approach you. Your pet will thank you.
With all of the above safety tips in mind, you're ready to take part in Halloween festivities! Accidents do happen though so should you suspect something has gone wrong when the time comes, please do call the Pet Poison Helpline at (855) 764-7661. If you need to bring your pet in to our office, please call ahead to let us know you're on your way so we can prepare—you can reach NOVA Pets Health Center at (703) 378-9791.
HAPPY HOWL-O-WEEN FROM NOVA PETS!