The Inside Look into the World of Guide Dogs
Posted on April the 25th, 2018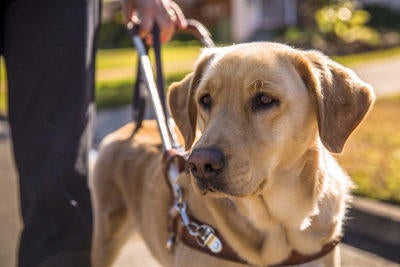 Today is International Guide Dog Day! This day celebrates the importance of guide dogs and how they help people live more independent lives. Guide dogs were first used in Germany following World War I to assist their veterans who had been blinded by mustard gas. In 1929, the first Guide dog training school in the United States, The Seeing Eye, opened in Tennessee than relocated in 1931 to New Jersey where it is still in operation today. Nearly 80 years later, The Americans with Disabilities Act established legal protections in 2010 for those using dogs as service animals. How do we celebrate this day: By learning as much as possible about the functionality of guide dogs in society and appreciating the hard work that the trainers put forth to contribute to the guide dog community.
One of the most traditional guide dog functions is to serve as a seeing eye dog for those with impaired vision or total blindness. Guide dogs are carefully trained to help avoid obstacles, access public transportation, cross roads safely, and other daily tasks to help their handlers' specific needs. Guide dogs are services dogs, which means they are working animals. When working, the canine will require minimal interference from others.
Labradors and Golden Retrievers are the main dogs that are trained as guide dogs. However, some organizations utilize German Shepherd Dogs, which were the first trained as guides. Some facilities even train Poodles for those living with allergies!
It takes about 18 months to train a guide dog from birth. First, the puppy must learn house training and obedience with a volunteer. Then they must go through their formal guide dog training which lasts a few months. At about 18 months, the guide dog meets with their partner and train together for 2-3 weeks to make sure they are a perfect match. Guide dogs are carefully paired with their handlers. Everything from a person's lifestyle, personality, hobbies, activity level, family, living arrangements, and other pets go into the pairing process. Not all dogs are the same so some may take a little bit longer to get fully trained before they can be matched with handler.
Guide dogs for the visually impaired are not a GPS, they are trained to take directional cues from the handler and are taught to intelligently disobey if there is an unsafe situation in the handler's path. The dog's job is to look out for hazards and obstacles that their handlers cannot detect. It is the person's responsibility to listen to the flow of traffic and give the dog a command to cross when it sounds safe. The dog must decide if it is safe to cross, and the owner must trust the dog. Guide dogs are also trained to judge height and width so that their owner does not hit their head or shoulders into objects.
These unique dogs can bring a great sense of independence to their handlers. While the guide dog is in their harness, they are working and you should not pet them. Although they are friendly and adorable, please resist your urge to distract a guide dogs when you see them working hard. Distracting guide dogs can lead to some very serious problems, much like distracting someone from driving. Always address the owner first and ask permission before acknowledging the guide dog. If the owner says no, politely respect that the dog is working.
Guide dogs give their owner freedom and confidence to live their life. Today we honor guide dogs and all the hard work they do as well as the hard working people who dedicated their time to training and matching guide dogs with their owners!