How to prepare for a natural disaster or emergency while keeping your pets in mind
Posted on July the 11th, 2018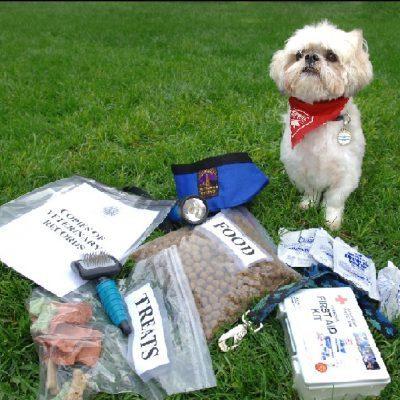 Emergency preparedness is a part of life no matter who you are or where you live. In case of emergency, it is important to keep non-perishable food items available, bottled water and a radio with backup batteries in a readily-accessible location. Stay away from windows if the wind could blow them in or under a sturdy desk to protect your from potential debris. But what should you have stored for your pets in order to keep them safe as well? Have you taken the necessary precautions to keep them safe should a natural disaster occur?
Stocking Supplies
Regardless of the specific natural disaster, you'll want to have a minimum of five days' worth of dry and canned food set aside with enough water to last that same amount of time all, preferably, together in a kit. Keep your pet's size and appetite in mind when purchasing and packing these supplies. You'll also want to pack weather-specific items, such as pet sunscreen and a warm winter coat, if needed, so that you'll be able to keep your pet comfortable and protected from the elements. You might also consider keeping comfort items, such as a stuffed toy and even an anxiety vest packed away. Your pets need security and comfort just like us, so if you keep these items set aside you'll be boosting the chances of keeping your pet safe and happy through the storm—or whatever the emergency is. With that said, it is also important to have your pet microchipped in the event that you get separated during an emergency. Also, keep up to date identifying tags on your pets collar at all times. If you have yet to conceptualize a last minute evacuation plan, Million Mile Secrets also offers a guide to prepare for potential disasters here.
The Event Itself
According to the Virginia Homeowner's Handbook, those of us living in Northern Virginia may experience hurricanes (also referred to as coastal storms in the handbook), tornadoes and floods. Each of these events requires that you take special precautions. However, for every case you will want to have your pet microchipped from the start, up to date on vaccinations, and keep identifying documents, or copies of them, in whatever kit you assemble.
Hurricanes (Coastal Storms)
First and foremost you'll want to ensure that your pet is with you inside the home and that you have a size-appropriate carrier at the ready in case of evacuation. Do not leave your pet alone outside, or inside, the home and certainly not chain or tether them to a tree, post or other object. You'll want to keep a list of pet-friendly establishments with you, as the Dogington Post recommends, in case you need to flee your home or even city. You do not want to end up in an evacuation scenario in which the shelter or hotel you get to refuses to take your pets too! If you deem it appropriate, you might even arrange boarding before the storm in a safe, secure location so that you don't have to worry about their safety when keeping your living space secure.
Tornadoes
Much of the previous advice is also relevant to tornadoes but there's still more you can do to prepare and be safe! You already know you would need to be ready to take shelter, but don't forget to make that area safe for pets. Are you using that space to store any liquids, such as antifreeze or paints, that could be toxic to your pet? Are there any spots you wouldn't be able to retrieve your pet from that should be blocked off? If your shelter is compromised, are there any tools or furniture that could fall and injure either of you? Minimize as many risks as you can before you're confronted with them.
Floods
Floods are an unfortunate risk that you can also prepare for. Take all of the above into consideration and don't forget to keep a leash and harness readily available that is adjusted for your pet's for size and comfort. Before a flood warning is even a thought, you should periodically allow your pet to wear the harness to acclimate to it. This way, when a flood warning comes, you and your pet will not struggle with the harness or its removal. If you need to move to higher ground, your pet will be secure in a familiar garment that will prevent them from running away into potential danger. Do your best during and after the event to keep your pet away from even small amounts of flood water that could be contaminated with bacteria or any toxic hazards
In Case of a Fire...
According to The American Red Cross, house fires are the most common disasters that they respond to, noting that pets are the cause of about 1,000 fires a year. Pets could knock over a lit candle, turn on the stove by jumping up and turning a knob, or mess around in a fireplace that has not been fully extinguished. So, how do we prepare for something we can't plan: involve your pets in your family's evacuation plan. During a crisis, it is important to be able to think like your pet. Identify your pet's favorite spots to hide in your house or apartment. If your pet is scared then he or she may refer to this spot to hide since it is their "safe spot." You will need to move fast because the house could fill up with smoke quickly. During family fire escape practices, you can practice scooping up your pet and securing them to get outside. Dogs may find this fun, while cats and other small pets may not, but it will get them in the right habit in case an emergency arises. Practicing your evacuation plan from different points throughout the house is key! Also, be sure to keep supplies easily accessible for your various escape routes:
Dogs will need to have their collars on and leash at the ready

Cats may need a carrier so that they don't flee once outside of the house

Small mammals and exotic pets may need cages
You may also want to get a window decal to help firefighters and rescue workers easily identify what type of pets are in the house and how many. This decal should be placed in the front window, easily visible. The American Red Cross even offers First Aid Guides for dogs and cats.
Finally, The Aftermath
You might be traumatized after experiencing some type of disaster in your life, or maybe your pet will be. If you are unable to care for your pet while recovering, find out if a trusted person, who your furbaby already knows and loves, can temporarily watch over them. For short rebuilding periods, you may want to consider boarding. If your pet appears to be in distress, consult their veterinarian for recommendations on behavioral interventions or even products or supplements that might ease their discomfort (similar to those you invest in for noisy holiday celebrations). Lasly, do not neglect to keep identifying tags on their collars with up-to-date contact information. Give your favorite furry family member(s) extra love, care and patience if they're struggling. In the meantime, make sure to get your entire family prepared for potential disasters!