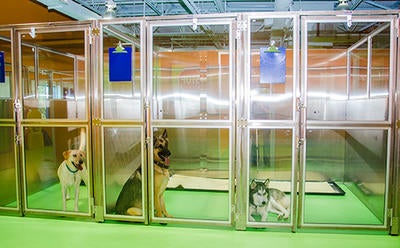 Pets are very close to us. We spend our leisure time with them. They need their master's love affection, care and attention. As the humans need grooming session to develop their habits, personality, attitude etc it is also necessary for the pets to be groomed or trained.The time has come to think about it .if you are living in Chantilly, VA, it is now very easy to find a pet boarding.
NEED FOR PET BOARDING
Pet boarding is necessary for the pet-owners. It would be very easy for them to handle their pets after the boarding or grooming session because after completing the period, the pet's behavior will be changed and they will more cooperative and less aggressive.
IMPORTANCE OF PET BOARDING
Nowadays, it has become a fashion that everyone needs to have a pet at their home. And the pet needs to be easily handled and obedient.
But it is not so easy that one can control a pet to make them able to do the task.
Therefore, it is important to attain pet boarding in Chantilly, VA for the benefit of the masters because the professionals will train the pets as per the need of the master.
The master will find it difficult to train the pet by himself/herself without having detail knowledge about the pets.
ADVANTAGES OF PET BOARDING
There are several advantages of continuous training of your pets. These are:
The pets can learn how to spend a good time with its master.
This changes the pet to be active, energetic and healthy.
The pet improves its ability and gain vitality that are mostly demanded by their masters.
These pets are cleaned regularly. It involves cleaning of ears, legs and whole body.
This creates the confidence and ability in the pets to adapt to any kind of difficult situation.
These type of boarding helps to reduce the anxiety in the pets.
The pets become very sociable to others and behave properly.
The pets are trained by the professionals who have long years of experience behind them to handle, control and groom the pets in an effective manner.
It reduces the risk factors of the pet-owners as they get a trained pet after some time.
The pet-owners feel relaxed after their pets attended the grooming session.