How to Ease Your Cat's Stress to Make Veterinary Visits More Enjoyable for the Both of You
Posted on April the 18th, 2018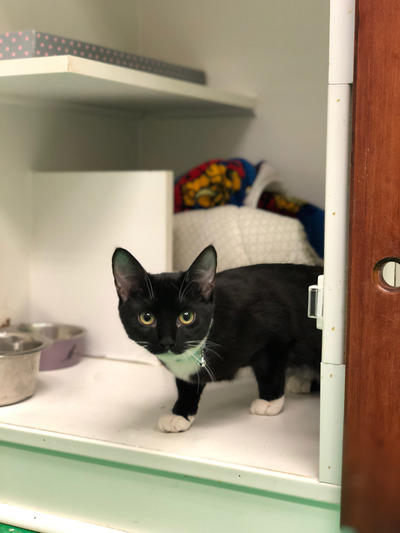 Is taking your cat in for a wellness check a stressful experience for you and your furry friend? From getting them in the carrier to cooperating with the veterinarian, you both may get a little overwhelmed at times. Don't fret, we have some tips and tricks that can hopefully make your next trip to the veterinarian's office quicker, easier and more enjoyable for the both of you.
Every now and again you can take your cat in for a quick social visit to your veterinarian's office. No needles, no weight checks, no temperature taking, just some petting, socializing, and treat giving. This will help break the idea that the veterinarian, and the office in general, is a scary or bad place to be. This way, they will get use to new surroundings, people, and even become use to being inside their carrier.
Does your cat hate their carrier? Put your cat's carrier into their environment a few days prior to the trip to the veterinarian's office. Try adding a comfortable blanket or even an old t-shirt that smells like you. You can even go the extra step and keep the carrier in their environment on a daily basis so that they will no longer associate the carrier with trips to the vet. Just like the idea with crate training a dog, a carrier can become your cats safe space making it easier for them to use it when you need it. Remember to always clean your cat's carrier after each visit to get rid of the smells from the vet's office.
Another item that feline owners use is a product called Feliway, which has a calming pheromone to help calm stressed and anxious cats. Spray Feliway on their blanket before putting them in the carrier to help ease them in their move. Another idea with the Feliway would be to add treats and catnip into the carrier to make it a more welcoming environment. Each feline is different and no one knows your feline better than you so you can experiment with these calming tools to see which works best for your furbaby.
When it's time to make an appointment for your cat, try to schedule something earlier in the morning. This way the waiting room is less likely to be busy and your wait will likely be minimized. For cat's that get particularly stressed during trips to the vet, you can also consider asking about possible pre-visit medication options as well as asking if your veterinarian does house calls.
Your cat can pick up on your emotional cues. If you're nervous and frazzled while heading to the vet, it will only add to your pets tension. Before your visit, be prepared with your cat's medical history and leave with plenty of time so you're not feeling rushed. Make a point to talk to your cat in a calm and soothing voice so you both are able to stay calm during this process.
Lastly, keep an eye out for any changes in behavior or reactions to medications administered during the office visit. All felines are different meaning they could react differently to various treatments or vaccines. Not all visits will be the same and your cat will learn how to adapt to these changing situations as it gets older but it is key to ensure that your furry friend has as minimal stress as possible.
Helping your cat become acclimated to their carrier, giving them extra love and attention, and making regular trips to the vet can all help reduce stress and anxiety for your cat. Once you arrive home, let your cat relax in their favorite spot and give them their space while still keeping an eye out for any post-vet issues and your cat will be happier than a cat in catnip!