Puppy planning: What size dog will fit best for you and your family's lifestyle
Posted on June the 20th, 2018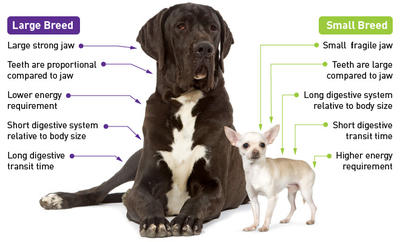 As summer emerges you might be considering adding a new dog or puppy to your household to love and care for. After all, it would be nice to have a beach buddy or a hiking pal. One question about dog ownership that comes up again and again is: would it be better for me to raise a small dog or a large one? Below is a summary of considerations that should help you answer that exact question!
Food
According to the American Kennel Club, among the main concerns for large breed dogs, especially when they're still puppies, are food intake, proper balance of vitamins and minerals, and speed of growth as influenced by diet. While many pet owners might be concerned about their dog getting too little vitamins or minerals, they often get an excess, especially of calcium. However, too much calcium may be harmful to your pet's health. Consult your veterinarian about appropriate nutrient balances for your dog, especially if you have any concerns about their weight.
Another consideration you'll want to keep in mind is kibble size—one size does not necessarily fit all. Kibble that is too small could become a choking hazard, while kibble that is too large will be difficult to chew and swallow. Luckily, many pet food brands offer large, small, and even toy breed formulas that not only take particular nutritional needs into account but also have been sized for your dog's growth.
Space and Exercise
In an article for Bark magazine, Karen B. London made the matter of fact observation that there are an abundance of logistical differences in experiences of pet owners with big dogs, and those with small dogs. When you bring a new dog home you must pup-proof everything. Take into account your dog's potential reach if they're large and don't forget that small dogs will turn your furniture into their step stools.
On that same note, think about your daily living space and how different sizes of dog could fit in them. For example, it could be incredibly awkward for a Saint Bernard to live in a tiny home or studio apartment. That said, while people often think that big dogs aren't well-suited to apartment life, energy levels and breed size don't increase or decrease with proportion- some breeds are just typically more hyper than others and require more space and entertainment while other big breeds may not need constant games of fetch to be fulfilled physically. Make sure to research the general energy level of the breed you're interested in and evaluate whether or not you have the space and time for their exercise needs.
Health
While it may be uncomfortable to think or read about, it's important to learn the life expectancy of your future four-legged friend. Generally speaking, the smaller the breed, the longer the lifespan.
As some of you may know, larger dogs are prone to musculoskeletal health concerns (disorders pertaining to the muscles or bones). Small dogs, on the other hand, are more prone to disorders pertaining to their airways.
Fragility is also a good thing to consider. Small breeds, like the Papillon, can sustain injuries more seriously than German Shepherds, simply because their bones are so much smaller. Be especially mindful of this when bringing dogs into a household with children.
Small breeds don't just have delicate bones but they also have delicate homeostasis that is easily disrupted by extreme heat or cold. Make sure that you pick a breed that will do well in your local climate and that you know how to keep your dog comfortable across the seasons.
Financial Considerations
Finally, breed size, in part, determines how big the bill will be for care. For example, it helps determine how much you spend on dog food as well as damages should your dog get into trouble. You should also know that toys and accessories may vary in price based on size because of the amount of material used in the product. You will go through care products, such as shampoo or paw pad salves more or less quickly depending on your dog's size as well.
Travel may be one of the costlier activities we do with our pets. Make sure your budget is able to cover fees for their transport and accommodations, such as carriers. Depending on your dog's size, one form of transportation might be more feasible than another, so do your research and prepare for other options as well. And, if you choose to travel without your best buddy, you may want to look for boarding options.

In the end, everyone has their own preference in dog size and as long as you can provide the care your dog needs, it doesn't matter which size you prefer.