Ending the dog days of summer on pawsitive note
Posted on August the 29th, 2018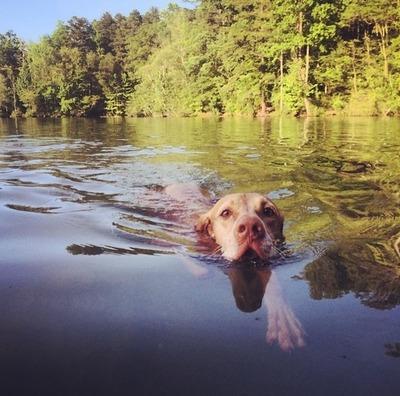 The sunny season is winding down, many schools have reopened their doors, and you might want to squeeze in one more good weekend trip to the coast or a nearby lake. If you're not going to board your pets, then your four-legged family members will likely be joining you. Read up on how to keep their play safe when water is involved!
First and foremost, it's a good idea to teach any new dog you bring into your home how to swim or to enroll them in swimming lessons if you frequently visit bodies of water with the whole family. At some point or another you will need to be involved in the swim training process but the effort will be worth knowing that your dog is not only safe but now can play in these wet environments!
Remember not to neglect water safety when you plan to be on but not in the water! If your family will be going out on a boat, it is imperative that you get your canine companion a life jacket, especially if their swimming skills are less than perfect. It's also important that you bring aboard fresh water for your dog to drink, especially if you will be away from shore for any extended period of time. Oftentimes, catching some rays in the summer heat makes us thirsty and the same is true for them. Whether your dog has a shady place to lie or not, consider bringing doggy sunscreen with you too, particularly if your dog has a short coat or white fur! The water reflects the rays of the sun back up and so the risk of sunburn is actually increased.
Once again, simply being around water requires that you take safety precautions similar to those you would take for a toddler. If you will be visiting family or friends for Labor Day and they have a pool, ensure that your dog does not have access to it unsupervised. Dogs have to learn to swim just as humans do, and they can have the same accidents as we do, such as falling into a pool and unable to get out. If for any reason your dog must be left outside near a pool, ensure that a sturdy cover will prevent them from getting into the water (or drinking it, yuck).
WebMD Pets urges pet parents to check the temperature of any pool or body of water before allowing your pooch to dive in, as their bodies are particularly sensitive to cold water. That same temperature sensitivity makes it important for you to towel dry your dog whenever they are done swimming. Any mammal can succumb to hypothermia! If you can, give your dog a thorough rinse before drying them because it's ideal to rinse away any exposure to chlorine or other minerals. Besides, if your dog is wet already why not get bath time out of the way too?
If you will be spending time by a river or the ocean be sure to test the current and find out about riptide risk ahead of time. Even proficient swimmers, human or canine, can get swept away by these impressive forces. If you have any doubts, keep your dog and yourself out of the water—there's nothing wrong with having a little picnic on the beach instead.
Lastly, one of the best skills you can learn as a pet parent is first aid and CPR specific to your pets. Should an accident occur, you will be able to take action and maybe even save your best friend's life! Find out where you can obtain your certification locally via Pet Tech by clicking here.
Enjoy the last dog days of summer!