It's not just for the hyperactive canines
Posted on August the 22nd, 2018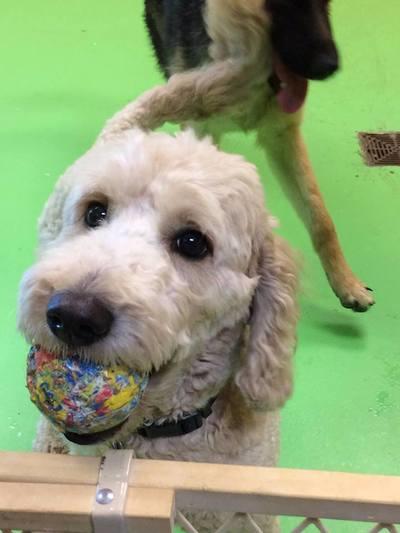 As social creatures ourselves, we can understand the canine need to interact with their own species, in addition to humans. It all starts with socialization, the process through which dogs learn to communicate with and be around others without becoming aggressive or defensive. While most people believe Doggie Day Camp is meant for hyperactive dogs to get more exercise, it is useful for many other types of dogs as well.
Doggie Day Camp is the perfect environment to introduce puppies to other dogs in order to learn the social skills they need to be comfortable in any situation. Doggie Day Camp can also be good for older dogs to build and maintain friendships, much as humans do through school, clubs, or religious organizations. Maybe you just need a dog sitter while you run errands but whatever the case, Doggie Day Camp could be very beneficial for you and your canine companion.
Day Camp can give you the peace of mind, while you are at work or maybe on a day trip, that your dog is taken care of and will find fulfilment and companionship too. You can rely on NOVA Pets Health Center to provide a caring and safe environment for your dog to make new connections and zoom around the play area with access to many toys.
So, what does Doggie Day Camp involve? That depends on your furry family member's needs! For rambunctious extroverts, we can provide six hours each day of play time with a lunch/potty break. During their time at day camp, your pup will be playing with toys, running around our spacious facilities, getting personalized attention from trained staff, and making friends with other dogs. For four-legged friends who don't need as much stimulation, you can book three hours of play (a half day of camp)! Our morning session runs from 9am to 12pm while our afternoon session takes place from 1pm to 4pm. Your dog will still have all of the same fun that our full-day, day campers do but without getting tuckered out before the day is over. Additionally, there are some group play options where your dog can play with a smaller group of dogs to get more individualized attention, while still socializing with others that have similar temperament to your pet. Finally, for shy or apprehensive dogs, we offer one-on-one private play with a trained specialist who will keep your pet comfortable and even help them build more confidence with others. No matter what your favorite canine's personality type is, we're happy to offer camp options to you!
Before your dog gets to camp, there are a few preparations we need you to make. First, please make sure that their shots and monthly flea and tick treatment are up to date. The good thing about NOVA Pets is that we are also a veterinary clinic and can administer any vaccines or treatment that you dog may be due for. After getting your pet up to date, be sure to schedule a Meet and Greet so that we can help you determine, not only the best option for your pet, but which session would be best for your dog and your schedule. If you would like to review pricing for our camp you can click here, and if you have any questions or concerns you can call us at (703)378-9791 or send us an email at Info@novapets.com. Thank you for your interest in Doggie Day Camp—we can't wait to play fetch with your pooch!