Guidance for Pet Owners Looking for a Care Facility in Northern Virginia
Posted on May the 16th, 2018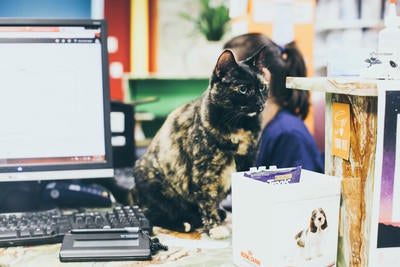 There are several animal hospitals in the area and across Northern Virginia, but which is right for you and your pet(s)? Whether you are a first time pet owner or new to the area, it can be a little stressful deciding who will take care of your pet(s). Most veterinary practices receive new clients through word of mouth recommendations and client referrals while many others turn to Google instead.
Here are a few things to consider when choosing a veterinarian clinic in your area:
THE FACILITY
Pick a facility and ask if they are available to give you a tour around the clinic. Many times, the staff will be happy to schedule you an appointment to come in and give you, and your pet(s), a guided tour. This would be a great time to ask as many questions as you want about the services, fees, accommodations, and specialists available. You will also see how your pet reacts to the veterinarian, staff, and other animals to see if this will be a good fit. Is the facility clean? During your tour you can check out what areas your pet may be in and determine if it meets your sanitation requirements. Is everything well organized, including the staff? Nothing is worse than having an invoice messed up or proof of payment lost.
THE STAFF
Professionalism and compassion are among the top traits to look for in any healthcare provider for any member of a family, including your pets. When checking out local vet clinics, keep an ear out for how staff members talk to each other, other patients, and the pets. Bring with you a list of questions so you do not forget anything during your visit. Be sure that the staff and veterinarian are knowledgeable about pet care so that you can be confident of your pets safety during any possible overnight visits. On that note, who is the veterinarian in charge of the clinic and is this someone with a good reputation? Is this someone you would trust to keep the best interested of your pets at heart?
THE SERVICES
Many veterinary clinics offer additional services on top of veterinary care. You can search the internet and check out the website of a clinic to get an idea of any additional services offered. You may have a rambunctious canine who may need obedience training or could benefit from Doggie Day Camps. If you travel frequently, you may also want to consider any boarding arrangements through your clinic or recommended by a trusted veterinarian. If you have an older pet you may also want to ask about specially diagnostics services so your pet can receive continuous care throughout his or her life. If you're always on the go, you may want to inquire about grooming services as well. The goal would be to find a place that offers the services you and your pet need that also fit with your lifestyle. Does the veterinary clinic offer other products for purchase such as food, flea and tick preventative medication, or other pet accessories? Is this important for you and will the clinic you choose have the products you need or desire?
EMERGENCY SERVICES
Hope for the best and prepare for the worse. Anything can happen in life, same goes for your pets. Emergencies happen so it is best to be prepared ahead of time. When choosing a veterinary clinic ask about emergency or after hours services. Some vets are happy to take emergency calls after hours, some clinics are open 24/7; then there are some vets who will make house calls- even in the middle of the night.
PROXIMITY
Pick a veterinary clinic that you can trust that is also easily accessible in case of emergency. There could be a clinic near your residence or on the way to work that also offers the services you and your pet needs. On the other hand, there may be a clinic perfect for you that is a little further or out of your way- is it worth it for you and your pet and how will you make it work with your schedule?
PRICE
Ultimately, you will have to choose a veterinary clinic that also works within your budget. Some things to consider would be the price of vaccinations, exams, office visits, and what form of payment the office accepts. Are there any discounts available at this clinic and how does it compare with other veterinary clinics in the area? Some offices will accept pet insurance or offer credit cards, such as Care Credit, to pay off your pets veterinary bills. Ask about payment plans or programs that the clinic may offer. Some clinics offer plans that are designed to help cut the yearly cost of pet care with discounted rates or payment plans. For example, at NOVA Pets Health Center, there are wellness plans that cover an entire year of veterinary services, at a discounted rate, that you make monthly payments on. This means you can make appointments all year long for your pet and have them covered by the wellness plan of your choice. These plans also offer discounted rates for additional services such as boarding or day camps. This means no paying up front at every visit: Just sign up, come in for your appointments throughout the year, and leave- just keep up with your monthly payments!
HOW TO BE A GOOD CLIENT
It is important to find a clinic and veterinarian that works with you but you must also work with your veterinarian and the office. Be sure that you show up to your appointments and keep up with scheduled vaccinations. Your clinic will keep records of your pets' vaccinations and, most likely, will remind you once your pet is due for more. Visiting your veterinarian often will help with the preventative care of your pet to ensure healthy growth and lifestyle. Find suitable ways to travel safely with your pet by putting your feline or small mammals in a carrier or properly leashing your canine. If you are coming in for an emergency visit, be sure to keep track of your pets symptoms and a time frame to help with a diagnostic and treatment plan. With the right questions and your pet in mind, whatever choice you make ultimately relies on your pets needs. Whatever choice you do make, make it confidently and never be afraid to ask questions.