A guide for pet parents and admirers
Posted on October the 13th, 2019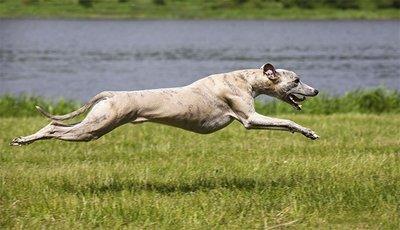 If you've ever seen a greyhound, you have some idea of what a Whippet looks like. The Whippet is similarly slim and built for racing, although the Whippet is considerably smaller. According to the American Kennel Club, Whippets emerged from Victorian England. From poor miners to those in the upper class, citizens enjoyed dog racing and rabbit hunting but needed a dog to fit within their budget. Greyhounds tend to weigh between 60 and 70 pounds, and other choice hounds were similarly large. The Whippet, bred by the aforementioned miners, only weighs between 25 and 40 pounds. The miners of the time got the perfect economy racing dog, giving the Whippet the nickname of "the poor man's racehorse," and gave those of us living today delightful household pets.
Despite being bred for athleticism, Whippets don't need as much exercise as some other breeds. Still, they should have a safe area to run out their energy or be put into classes, such as agility courses. Always keep your Whippet on a leash when out and about. They will chase small animals and even small objects moving along, including trash. The Whippet's exercise needs, sociability, and playfulness make them perfect Doggie Day Camp participants too—and Nova Pets Health Center can ensure they don't run off like the rabbit hunters they were bred to be!
In terms of grooming, Whippets are low-maintenance only needing occasional baths and brushings. They also tend to be generally healthy, but should have their eyes examined periodically. According to PetMD, "eye problems are a major health concern for this breed." Apart from this stipulation, annual examination should keep Whippets in tip-top shape. As with any other breed, Whippets need a regular dental and nail care routine.
The ideal home for a Whippet is definitively indoors with temperature control, especially if you live in a cold region. Whippets don't tend to have much body fat, so they get cold easily and do not tolerate it well. Additionally, Whippets love lazing around the house, spending time with their humans. This breed does extremely well with a balance between activity and relaxation. Whippets are companion-oriented and should not be left alone for long periods of time. In fact, Whippets are prone to separation anxiety, which is understandably terribly distressing. In part because of this tendency, and in part because of how friendly they are with people in general, Whippets make fantastic family pets and will be happiest in a household where someone is always home.
If the Whippet sound like the perfect furry family member for you, check out a nearby rescue or find a responsible breeder via the American Kennel Club or American Whippet Club. When you bring your Whippet home don't forget to establish care by calling NOVA Pets at (703) 378-9791, and check out our Wellness Plans we've set up to help keep both your four-legged friend and your bank account healthy!