The perks of owning and loving a feline friend
Posted on May the 30th, 2018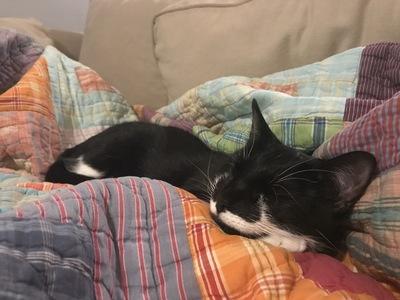 With Adopt a Shelter Cat Month (June) and International Hug a Cat Day on June 4 just around the corner, you may be wondering, "what's all the fuss about felines?" Or, maybe you just know a lot of people who have cats and want to know what it is they know that you don't. Well, there are numerous reasons why having a cat is something to purr about.
First, consider the basic needs every human has. Sure, we need food and shelter, but we need companionship as well. According to a 2013 interview with a scientist named Matthew Lieberman, companionship isn't an option—it's key for us to thrive. Cats are remarkably in tune with human beings because of our ancient relationship with felines. In fact, just last year, TIME magazine reported that, despite cat owners' jokes, cats do indeed "love humans more than food." While cats have been stereotyped as aloof, they're often very affectionate, and express this by rubbing against their humans' legs, or laying in their laps, and, of course, by purring. Some cats make a point of following their humans around or sleeping next to them. Felines sometimes even go a step further and vibrate their tails to express just how happy you make them.
That all sounds nice, but why else should someone adopt a cat? Consider this: Cats give us a mood boost. This happens whether we watch videos of them online or interact with them in person. Many felines are such dedicated animals that they even serve their humans as emotional support or therapy animals. That means that cats are able and willing to assist people suffering from poor mental health. Organizations, such as Pet Partners, facilitate volunteers getting involved with their four-legged friends, including cats, so that they can visit assisted-living facilities, nursing homes, hospitals, and more!
It's not just our mood that cats can have a positive impact on. According to a study published in the Journal of the Acoustical Society of America, cats purr at the frequency most conducive to bone healing and health. But even if you don't have osteoporosis, you might find physical health benefits of having a cat. You see, our feline friends are what you might call, "heart healthy." Researchers have found that cat ownership correlates with decreased incidence of cardiovascular disease and death.
Cats are social creatures. They don't need just food and shelter, but they also need love, just like us. We can return the favor for the mood boost by giving them toys and entertainment, not to mention precious cuddling time. We can promote their physical health too, by vaccinating them and keeping them free of pests like worms, fleas, and ticks! You can also give all of this love to a cat currently living in a shelter which can also be pretty satisfying.
If you're unsure about making your house a forever home for a feline, but you want to add a furry friend in your life, why not foster a cat until they are able to be adopted? To do so, simply contact your local animal shelter to make an inquiry.
Finally, for those who can't bring a cat home just yet, we encourage you to actively engage in the annual Adopt a Shelter Cat Month every June by volunteering with local shelters. Don't forget to hug a feline on June 4, either (but only if they want to be hugged)!