Posted on October the 9th, 2019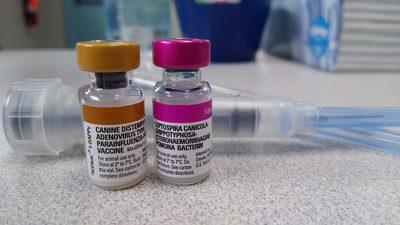 If you've ever looked into being or been a pet parent to a dog, you've probably heard of the distemper vaccination (DHPP). What is distemper and why is the vaccine for it so important? Canine Distemper Virus (CDV) causes "distemper," which is both contagious and potentially fatal. The virus attacks multiple biological systems, including the respiratory, gastrointestinal, and central nervous systems. There is no cure for infected dogs, which makes prevention key. DHPP keeps distemper from being able to attack your dog and inhibits the virus's ability to spread in any given population, making it a vital part of your dogs yearly wellness routine.
The symptoms of distemper are numerous, and include the following:
Discharge from the eyes and/or nose

Diarrhea

Fever

Lethargy

Aggression

Vomiting

Muscle twitches and/or convulsions

Paralysis
If you find your dog experiencing these symptoms, especially clustered together, you should bring your dog in for emergency treatment immediately. While as previously mentioned, there is no cure but treatment can be provided and may consist of intravenous fluids. Anti-nausea, anti-seizure, or other medications may also be administered. It's important to note that the longer the treatment is withheld, the worse the prognosis.
Thanks to DHPP, distemper is fairly well controlled in domestic dog populations. Distemper also affects wildlife, such as skunks and raccoons. Furthermore, if a pet parent is unaware that their dog has recently become infected, all unvaccinated dogs who come into contact with them are put at risk. This is because distemper is spread through direct contact, which could mean contamination by an infected dog to an unvaccinated one through coughing or sneezing or even sharing food or water bowls. Contact with an infected dog, skunk, or raccoon's bodily fluids also put unvaccinated dogs at high risk.
Recent veterinary recommendations state that dogs should be vaccinated against distemper annually, although the vaccine may be effective well over that time frame. Consult with your veterinarian about any local incidence of distemper and the best vaccination frequency for your furry family member.
Don't wait until alarming symptoms develop in your pet before establishing care with NOVA Pets Health Center. Instead, call us at (703) 378-9791! We have Wellness Plans that include annual vaccinations to help you care for your four-legged friends' health while saving money. If this is your first time hearing about NOVA Pets, we invite you to take a virtual tour of our facility to learn more. We hope to hear from you soon!